March 2006
ASK THE SMART GUY: Monthly column by Dennis Latham.
---
The Smart Guy after a successful day at Gulfstream Park in Florida.
Original 2006 note by author: "(Some internal parts may be missing due to accidental autopsy.)"
Question of the Month: How do I make money at the track?
To answer this one must consider all the factors involved, and Iíll confine my answer to horses instead of dogs, cats, mice, bugs, and anything else that can be made to race. You must consider horse temperament on any given day. You must also consider the track condition, the wind direction, post position, and the class of horses in any given race. Some handicappers utilize computers to calculate the fastest horse in a race. The problem, especially at cheaper tracks, is that the best and the fastest horses do not always win.
You must figure in the lousy jockeys, the crooked jockeys, the lousy trainers who do not feed their horses because they already bet and lost all their bet;
…And figure in the crooked owners who try to fix races, whether the horse is drugged, over-fed, over-watered, untrained, lame…
…Or whether the horse has been 'nerved,' which involves removing the nerves from the legs so the horse canít feel pain so even if it sometimes snaps a leg it keeps running…
Ed. Note: True stuff what Dennis wrote here. There are no evil horses nor animals in general; only evil humans. Yes, a few of our species do stuff like that, and we are still animals. [JTC 2021}
You have to deal with all these factors, and then you have to learn how to read a racing form. This gives details of the prior records of all the horses in the race plus recent workouts. This is deceptive because the prior records can be printed wrong, and the track clockers, who record workouts, have been known to make up figures or put down the wrong figures to give them an edge in the betting.
This would lead one to believe that figuring out horse racing is about like trying to read Internal Revenue instructions written by the Mafia. Itís a lot worse because all information regarding horses cannot be taken at face value. You also have to look between the lines to see which trainer or owner is playing games with their horse. Some owners and trainers will pull their horse back so it looks bad in a race so they can get big odds the next time they run the horse. You can sometimes watch jockeys pulling back their horses, if you have a good pair of binoculars. Horses take a real beating in the name of fun. A race horse has to run its entire youth away until it dies, and it doesnít have sex until it retires and only after making a bunch of money. But I guess some people are like that, too.
It is also a good practice never to listen to tips on horses. When you are at the track it is possible to receive a hot tip on every horse in the race if you move around enough. Hey, if someone had a sure thing why would they give it to you? The people who know horses and make money at the track do not give away their selections.
I could go on for hours about various aspects of winning at the track. Hey, thatís why IĎm the Smart Guy. Any-hoo, after years of research, I have come up with three sure ways to win money at the track.
1. On St. Patrickís Day bet every horse with a reference to Ireland in the name (e.g., Irish Luck, Green Clover, Patty 0íPancake);
2. Bet your house number;
3. Copy little old lady bikers who place bets using the age of a grandchild.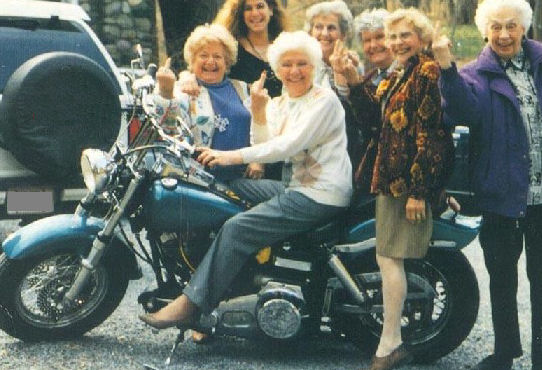 Place your bets: little old ladies always pick winners at the track and may share them with you. (Those little old ladies told the Smart Guy they were betting the number 1 horse.)
---