Shaun Farrell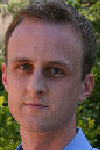 Shaun Farrell joined Far Sector SFFH in April 2005, taking the reins of the Singularities Review page from A.L. Sirois.
Shaun's love for great stories started at a young age; for example, when he wore out several tapes of Return of the Jedi. He has since earned a B. A. in Literature.
Interviews. Shaun has also developed a column entitled Shaun's Quadrant. His personal column features original interviews with best-selling authors. Shaun Farrell serves as critic and opiner at large for Far Sector SFFH. His far-ranging inquiries soon netted interviews with top authors including Ray Bradbury and Michael A. Stackpole.
Reviews. In his Classic Reviews series, Shaun examines great works of speculative fiction's past, to help preserve them for future generations.
Acting. In addition to his love for reading and literature, Shaun studies acting and has appeared on stage in several productions over the past two years.
Shaun and his wife live in Southern California. Shaun's website as of 2007 is www.shaunfarrell.com. Ed. Note 2021: As Far Sector SFFH closed in Spring 2007, Shaun moved his talents toward other ventures. He was then already very much interested in podcasting possibilities— see Adventures in SciFi Publishing (AISFP), which he founded.
Moving On: According to the folks at AISFP: "Shaun started Adventures in Scifi Publishing because he loves Speculative Fiction… His fiction has appeared in the anthologies The Ray Gun Chronicles and The Ministry of Peculiar Occurrences. He has written articles for Strange Horizons, Clarkesworld Magazine, GateWorld, Far Sector SFFH, and non-genre magazines. Shaun handed over the reins of Adventures in SciFi Publishing in March 2015 to Brent Bowen in AISFP Episode 288. Shaun lives in Northern California with his wife and two children."
Shaun Farrell's short story Conversion appeared in the anthology The Ray Gun Chronicles: Space Opera for a New Age, Dec. 2013, Ed. Bryan Thomas Schmidt.