October/SOND 2004
Editorial Notices Books Received
Editorial Content

Renovation Notes 2022. As explained per info link at right, in the last months of our magazine's run I did not always find time to provide editorial content each month. As a temporary stop-gap, we duplicated the previous month's editorial. In 2022, cleaning up the magazine's museum site (stale or dead links, etc) I am deleting (way overdue) those pages and instead substituting info about some of the many book projects I and other team members had going (updated editions if possible). More info here: (click). [JTC]
---
See a Book by: John K. Muir Dennis Latham A. L. Sirois John Argo
---
Michael in Hell by Dennis Latham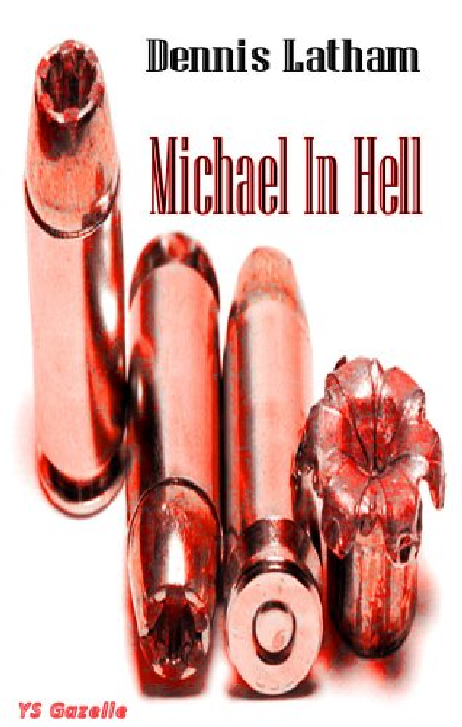 Dennis described this novel at Amazon thus: "Michael In Hell makes a return this month on Kindle with a new cover. The novel is based on a short story I wrote in 1973 and sent to Isaac Asimov. He suggested I turn it into a novel, which I began writing in 1992. I sent the final version to my then agent in 1995. The novel was considered too graphic by major publishers due to a periodic surge of complaints about the violence in media and games. It would later be compared to Dexter and Seven, but I wrote it years before any of those popular works. Timing is everything, and I've been told that I was either crazy or ahead of my time with my fiction. People also assume I'm Michael Tucker which is why I get so close to the character. As it turned out, in 1995, under FBI guidance, I took the role of 24/7 bodyguard for two children involved as witnesses in a criminal child molestation case. The FBI had no jurisdiction, but believed the defendant would possibly try to have the children killed. (Some people thought I was being investigated by the FBI at the time for incidents in Michael In Hell and assumed it was my written confession.) The U.S. Marine part of me took over and I was prepared to take out anyone who posed any threat to those children. The case was resolved and the children weren't harmed. I believe Michael Tucker is my subconscious tribute to Robert E. Howard's Conan the Barbarian in a contemporary setting. It is also a definitive example of combat PTSD and the change it makes in the warrior. Time has caught up with my story, and to keep in character, the reader must suspend belief to live the modern America I created back when 2005 was my distant future. The novel is part of a trilogy that begins with The Bad Season and ends with my novel in progress, Two Weeks Burning."
Dennis Latham (Dennis Marino) (1946-2019) a team member for years on our magazine, said about himself: "I'm a Vietnam Marine to the end." As a combat veteran, he served as an advisor to hundreds of fellow veterans through his research and his excellent periodical The S-2 Report covering especially Department of Veterans Affairs (DVA) issues. He published numerous excellent novels and many short stories in several magazines in the U.S. and in Canada. He preferred writing action novels like the acclaimed Michael In Hell. Until his passing from cancer in 2019, he lived in Indiana with his wife Dorothy. Together, they were Big Band Vocalists and performed in their local area on weekends. His personal imprint was YS Gazelle Publishers. Here is a great song (one of many) performed by Dennis Latham (aka Marino) titled Get Up Off Your Love with the Chase-Hamilton Band, 1986, on his YouTube Channel Get Up Off Your Love. From there, you can click through his other music on his YouTube Channel.
---
Jersey Ghouls by A. L. Sirois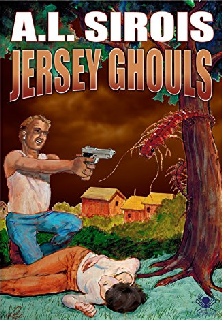 Former cop Lafferty "Hoff" Hoffman, now on disability, is contacted when the body of a local woman, Gerry St. John, is discovered. Something has eaten her alive from the inside. The little river community of Sherwood's Landing, NJ is being invaded by huge, venomous Central American centipedes. Hoff and Gerry's sister, his ex-girlfriend Beatrice St. John, are swept into terror as their neighbors are enslaved by the centipedes' group mind. Hoff, Beat, and the others remaining free must band together to survive the onslaught of ravenous ghouls
A. L. ("Al") Sirois (one of our key team members) is a writer, developmental editor, graphic artist and a performing musician. His publication career began in 1973 with the appearance of the short story War Baby in Fantastic. He has gone on to have fiction in Isaac Asimov's Science Fiction Magazine, Amazing Stories, and Thema, and online at Electric Spec, Mystery Weekly, Every Day Fiction and Flash Fiction Online, among other publications. His story In the Conservatory was nominated for a Pushcart Prize. Other works include a children's book, Dinosaur Dress Up (Tambourine Press/William Morrow), a graphic novel, THE ENDLESS INCIDENT (2014), a fantasy novel, THE BOHEMIAN MAGICIAN, published in 2017, and JERSEY GHOULS, a horror novel published in June, 2018. As an artist, he has published hundreds of drawings, illustrations,and paintings. Al has contributed comic art for DC, Marvel, and Charlton, and has scripted for Warren Publications. He wrote and drew Bugs in the System for witzend #12, the famous comics fanzine started by for MAD artist Wally Wood. He lives in Rockingham County, North Carolina with his wife and occasional collaborator, author Grace Marcus.
---
Nebula Express by John Argo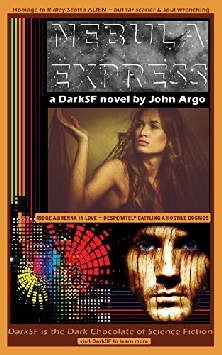 Never before has a ship so far from home been in so much trouble. Hurtling through space and time like a blur, the starship Nebula Express gives truth to a darkly bright motto out of a nightmare: "Nothing seems right…near the speed of light…" Not the ship, not the mission, nor its people--especially not Ridge and Brenna, who are drawn to each other in a deep passion that defies the deadly madness all around--yet their love, too, is a symptom of all that's wrong aboard the Nebula Express. In the tradition of Ridley Scott's Alien—but scarier, more thoughtful, with a love story amid the terror, chaos, and horror of a ship gone insane.
The six-person engineering crew aboard a cargo ship awaken to a normal morning in the crew quarters aboard a solar system cargo ship named Neptune Express, on a two-year mission to the blue gas giant that will allow each to retire wealthy. They enjoy breakfast, banter, and email home across the vast emptiness of space. But Earth isn't answering. And the captain is nowhere to be found.
When Ridge, Brenna, and the other four specialists open the hatch to enter the huge ship, they discover to their horror that nothing is what they thought it would be—not the ship, not the mission, not the engineers themselves—a heart-rending ultimate discovery for each man and woman that is sure to send cold chills through the reader. It's a plot twist no writer has ever done before.
Our apocalyptic odyssey is not just through ruined cities—-all of that is gone forever. Six technicians aboard a broken, ruined, apocalyptic starship from hell must learn the tragic truth about themselves, their journey, and their destination (nowhere).
Mystery upon mystery compound the terror as the crew find themselves inside an ancient, wrecked starship that is far beyond anyone's ability to repair. Then bodies begin turning up, along with zombie-like Mudmen or Cleaners who hunt both the living and the dead, seeking body parts and food. But that's the least of the crew's problems.
Now the dying begins. One by one, the engineers fall prey to a strange illness. Not only is everything frighteningly wrong, but one by one, each realizes the most horrific truth of all about him or herself.
Ridge, a strong, handsome Lead Engineer, and lovely red-headed Brenna, Senior Engineer, have families back on Earth whom they love very much. And yet, they find themselves drawn into a passionate, overwhelming love that neither sought, but they cannot resist or understand.
Soon, pursued by the zombie Cleaners, Ridge and Brenna are on a desperate search for truth, for help, for survival, for salvation where there can be none. Or can there? Somewhere in the rusting, dripping, hollow, ghost-ridden bowels of this enormous city flying through the distant galaxy is a magical place called Largo, where answers and help can be found.
Ridge and Brenna must find Largo before it's too late, as the clock ticks…Largo itself is only a keyhole leading to either human extinction—or a New Earth that is humankind's only shred of hope. If the two lovers cannot defeat the ship and its monsters (both external and internal to themselves) they will never know as a ghastly array of long-dead, mummified officers on the bridge sails the Nebula Express to her ultimate destiny amid distant stars.
John Argo is a SFFH pseudonym of John T. Cullen, a San Diego author of more than fifty books (poetry, fiction, nonfiction). See his personal JTC website for more details. In 1996, he published the first e-book (HTML novel) online, titled Neon Blue. This was the first *proprietary* novel (not public domain as with Project Gutenberg) published as HTML online, in its entirety (not teasers) to be read online (not on portable media, i.e. floppies, CD-ROM, tape). Details at the website. Author bio also at Amazon (
---
Encyclopedia of Superheroes 2d Ed 2008 by John K. Muir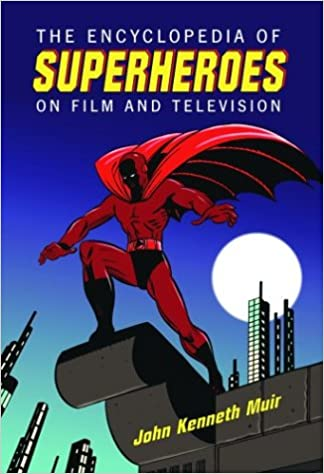 It's a bird! It's a plane! It's a complete guide to over 50 years of superheroes on screen! This expanded and updated edition of the 2004 award-winning encyclopedia covers important developments in the popular genre; adds new shows such as Heroes and Zoom; includes the latest films featuring icons like Superman, Spiderman and Batman; and covers even more types of superheroes. Each entry includes a detailed history, cast and credits, episode and film descriptions, critical commentaries, and data on arch-villains, gadgets, comic-book origins and super powers, while placing each production into its historical context. Appendices list common superhero conventions and cliches; incarnations; memorable ad lines; and the best, worst, and most influential productions from 1951 to 2008.
John Kenneth Muir, a team member for years on our magazine, is the creator of the web-series The House Between (2007 - 2009) and the new audio-series Enter the House Between (2022). He is an award-winning author of 30 books in the fields of film & television, with an accent on horror & sci-fi. John has been described as one of the horror genre's "most widely read critics" by Rue Morgue Magazine, and as an "accomplished film journalist" by Comic Buyer's Guide. His director books include profiles of John Carpenter, Wes Craven, Christopher Guest, Tobe Hooper, Mira Nair, Sam Raimi, and Kevin Smith. John has twice won a Booklist Editor's Choice citation (for Horror Films of the 1970s and Terror Television). John is also the creator of the award-nominated web series, The House Between, and in 2009 John's blog, Reflections on Film/TV was named one of the "top 100" film study blogs on the Net. In 2010, John appeared in the documentary Nightmares in Red, White and Blue. His newest book is Horror Films of 2000-2009 (2022).
---
Notices
Notices: Notices received from third party organizations will be displayed here as appropriate. If no notice appears here, it means we did not receive any this month.
---
Books Received
Received: Books and materials received may not be shown here, but will most likely be reviewed or discussed in our columnists' monthly articles. See appropriate column for info.
---