May 2006
The Anubis Gates
A Novel by Tim Powers
Ace Books (Trade Reprint Edition January 1997)
ISBN: 0441023827 (several editions)
387 pages
---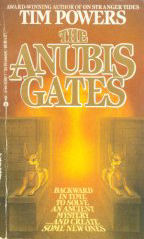 When Brendan Doyle, a college professor and a Samuel Coleridge expert, is offered 5,000 dollars and free airfare to fly to England to meet one of the world's wealthiest men, he doesn't realize that his life is about to change forever. The rich man, J. Cochran Darrow, has discovered the secret to time travel. The only way to accomplish such a task, however, is to utilize pre-existing holes in time, and to jump from one hole to another. Such a hole will exist in England the next day, and it takes them to 1811 England when Coleridge will be delivering a speech. Once he recovers from his initial shock, Doyle agrees for the opportunity to meet one of his favorite poets.
Their jaunt into the past is quickly derailed when Doyle is kidnapped by a group of gypsies and trapped in the past. A powerful magician named Romany believes Doyle holds the key to enabling a plan thousands of years in the making: the destruction of the British Empire and the opening of doorways into both the underworld, Tuaut, and into time itself. Doyle manages to escape Romany, and his life becomes entrenched in magic, strange beggars, and multiple jumps through time. Chased by both a maniac clown with evil powers and a murderous werewolf, Doyle must learn his role in history and defeat powers beyond his comprehension.
The Anubis Gates is, quite simply, one of the most imaginative and fun novels I have ever read. We see most of the story through the eyes of Brendan Doyle, a likeable modern man who lives for his studies. To say he is out of place with 1811 England is an understatement, but his knowledge of the time, thanks to his love for literature, gives him the necessary tools to survive. He is also fortunate enough to fall into the graces of caring strangers, especially a beggar boy named Jacky, who gives Doyle the means to survive while he struggles with his dilemma.
Readers who appreciate literature will enjoy seeing Samuel Taylor Coleridge and Lord Byron as characters in this quirky adventure. Byron is headstrong and somewhat brash, while Coleridge is quietly reserved. Both play intricate roles in moving Doyle along in his journey, and Coleridge takes action, albeit unintentionally, to save Jacky's life, which will later become a very significant event in the preservation of history.
Powers masterfully tiptoes the line of hiding information to keep the reader turning pages while simultaneously explaining enough to keep frustration at bay. The book is full of episodes that upon reading seem extraneous and unnecessary, but the purpose of those episodes usually becomes known a few pages later, giving plenty of "ah-ha!" moments. If there are loose strings in this book they are permissible, and this reviewer struggles to find them. Powers maintains a complicated, character laden story with wit and grace.
With exotic characters and settings, including England of the late 1600s and sunny Egypt, The Anubis Gates is a time travel story that stacks up with the best of them and is sure to sta the test of time. It is pure imagination and fun, full of character driven action and humor. A novel that transcends genre limitations, this book will please lovers of all fiction alike. I can give Tim Powers a compliment I have only given to a few writers: this book I will read again. One time simply is not enough.