September 2005
Two Reviews:
*American Gods* by Neil Gaiman
*The Mirror of Fire and Dreaming* by Chitra Banerjee Divakaruni
American Gods
A novel by Neil Gaiman
HarperTorch 2001
ISBN 0380789035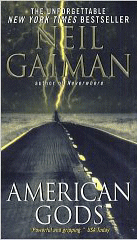 Shadow is anxious to finish his last few days in prison so he can get back home to his lovely wife. He has a job and a warm house waiting for him, so life is about to get improve greatly. But then Shadow is taken to the warden's office and given the bad news: his wife, Laura, has been killed in a car accident. Shadow is released from prison and gets on a plane to head home. On the plane he encounters Mr. Wednesday, a man who seems to know everything about Shadow's life. Shadow flees the man at a layover, rents a car, and determines to drive the rest of the way home. He stops at a bar, and who is there to meet him? Mr. Wednesday. With nothing better to do, Shadow accepts Wednesday's invitation to work for him. He is then thrust into a world of power and mythology, where the gods of history seek to rekindle humanity's devotion, and a war of ideologies is about to break.
I know I'm a little behind the times when it comes to reviewing American Gods, given that it's been a popular book the last four years. The book was recently republished, however (both in mass market and trade paperback editions), to pave the way for Gaiman's upcoming novel, Anansi Boys, which also deals with gods. So, this review seems timely, all considered.
I had high expectations for American Gods. The book contains praises from the likes of Stephen King, Peter Straub, William Gibson, George R. R. Martin, Tim Powers, and Chris Carter. But I was concerned as I started to read. Quite frankly, I didn't think the writing was very good. The use of the "F-word" isn't very impressive to me, (but it can be effective if used sparingly), nor am I taken with references to women's private parts or sex scenes. Though the sex scene here is unlike most, to tell why would give it away! It seemed to me that Gaiman had this big idea, and he just wasn't sure how to get going. Then I hit the 100 page mark, and the story took off. The characters came to life, the narrative began to flow instead of assaulting me in short, choppy units, and I became completely engrossed in this tale of gods and belief and history and myth.
We see through Shadow's eyes that there is another world living both beside and within the physical world. Gods throughout history actually did exist, and some still do. Their power is derived from the depth of devotion their followers exude, and as the number of followers increases, so does their vitality. But America has gods of its own—gods like Television, and Media, and Money. And the gods of the modern world have little sympathy with the gods of old who have struggled for centuries to survive as belief in them waned.
Gaiman takes on a huge subject with this idea, and he doesn't shy away from it. He gives us richness in mythology, but he never tries to explain the phenomena of faith or the birth of gods, thereby eliminating the wonderful sense of mystery that permeates the tale. He does, however, give us glimpses into how the gods once used their powers, how they came to America, and how they survived, often as tricksters and thieves. I particularly like one of the subplots dealing with a small town that was formed by a god. I don't want to get into details or give anything away, but Gaiman uses that story to show that no one is immune from the influence of gods. They exist all around us and impact our existence more than we understand. It is also in this place that Shadow rediscovers his humanity, having lost touch with it due to prison time and the pain of losing his wife. He becomes a complete person again, which allows him to make a crucial sacrifice and alter the course of the war.
In American Gods, Gaiman has written a rich, detailed, and mysterious tale – a world that is more like our own than we may realize. I recommend this in prelude to his upcoming release. Gaiman has a wonderful ability to see beyond our physical existence and to speculate at what lies beneath it. After reading American Gods I'm ready for more, and I think you'll agree.
ADDITIONALLY—IN BRIEF:
The Mirror of Fire and Dreaming
A novel by Chitra Banerjee Divakaruni
Roaring Brook Press
September, 2005
ISBN: 1596430672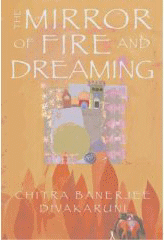 Also coming out this month is Book 2 of Chitra Divakaruni's children's series The Brotherhood Of The Conch. I reviewed the first book a couple of months back, The Conch Bearer, and I recently received an advance copy of the upcoming sequel, The Mirror Of Fire And Dreaming. Unfortunately, I haven't been able to finish the book and write a complete review, but I want to mention it now with the publication date drawing nigh.
The Mirror Of Fire And Dreaming continues the story of Anand and Nisha as they study the ways of magic in the Silver Valley. When their mentor is captured by an evil villain, the children must travel back in time or face the destruction of all they hold dear. Like The Conch Bearer, this book is a wonderful offering for children, teenagers, and adults alike. It has most of the common devices found in fantasy novels, but offers a unique cultural perspective from India, both present and past.
I highly recommend this series for anyone who loves Harry Potter and the like. The difference is Divakaruni can teach you about a world that really exists, and give you some great magic besides.