Shaun's Quadrant—February 2006
Shaun Farrell Interviews He-Man/MOTU Staff
---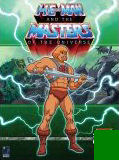 Ed. Note: Shaun went behind the scenes at BCI, owners of He-Man MOTU intellectual property rights, and wrote the article below. He also interviewed several key staff members. He offers those separate, in depth interviews on this page, following his article.
Shaun Farrell: This month in SQ, I dive head first into the creation of the He-Man and the Masters of the Universe DVDs produced by BCI. I would like to thank everyone who aided in the creation of this story for their time and detailed recollections. Following the article is a large section of bonus questions featuring material that didn't fit into the article itself but is still of substantial interest to MOTU fans. Also make sure to visit the related websites below as they will keep you informed on future He-Man DVD releases.
Having conquered the cartoon world in the 1980s, He-Man and the Masters of the Universe now returns to its most glorious form on DVD. Starting in 2005, BCI Eclipse began releasing the entire MOTU series in attractive boxed sets. These DVDs are busting at the metallic seams with extras, and their presentation makes it clear that the folks at BCI wanted very much to honor the show and give fans the collection they've been waiting for.
Jeff Hayne, Director of Acquisitions at BCI, tells me how they came into the possession of this classic cartoon. "It was the first major property that I pursued in my current position," he says. "I researched the property's rights owner and tracked it to a company in the UK (Entertainment Rights). My first face to face meeting with them was at a film and television conference in Cannes, France, which is when I told them we were seriously interested and would be making them an offer. The rest is history!" As a lifelong fan of He-Man, Jeff understands that the He-Man property still has a strong fan base. "I was pretty young when it first came out, but I remember watching it like it was yesterday. I had all the toys…People in the 25 to 35 year old range consider this a nostalgia TV product and seem to be excited to reminisce about it and favorite shows from their childhood."
With the rights in hand to produce the He-Man DVDs, BCI "immediately hired two outside consultants--Andy Mangels, who was an expert on DVD releases featuring animated TV series, and Val Staples who runs MVCreations as well as He-Man.org. BCI used these two and their teams to execute a very detailed plan: how each DVD would be released, what special features would be included, how we would include the fans, and the special authoring processes we would utilize to make these DVDs unique and collectable."
Andy Mangels remembers when he and Val "flew in for a one day brainstorm session about how to most successfully release the He-Man DVDs. We both found that BCI was not only interested in what the fans wanted, but that they were ready to commit serious resources to putting out some stupendous DVDs with lots of Special Features. Val and I both agreed to be part of the project and divvied up the work between us." Val Staples concurs with Andy's assessment that BCI longed to create the highest quality DVD. "Credit for the extra features goes to BCI," Val said. "They are the ones who were willing to put down the money and take the risk on it all. We all discussed in several meetings various ideas for the packaging all the way down to content of the discs. BCI was receptive to most of the ideas and moved forward to make the sets as intensive as possible. Since then Andy Mangels has been tracking down creators and interviewing them with the help of Reed Kaplan to produce great documentaries."
Before Andy could begin his interviews he "came up with the concepts for all sixteen (documentaries), though there have been some changes on later ones. At that point, I researched who was available and who was willing to be interviewed for the docs." Working in locations from L.A. to New Jersey, Andy compiled 40 interviews and had to "write an extremely detailed script that gives time-codes for the interview clips I want used…Once the script is approved by BCI and Entertainment Rights, both the editors and graphics guys start working on it. It's a very time-consuming process, but the end result has been great!"
Jeff adds that "the challenges (for developing the DVDs) were numerous, but we wanted to be so thorough in our treatment of this series. We wanted to talk to everyone who came up with the initial concept, worked on the show, designed a toy or worked at Filmation. We wanted to include original documentaries, commentary tracks, etc. The task of organizing this monumental undertaking was great, and I have to credit our product development team for taking everyone's ideas and input and making it into a reality."
With so much content to sift through, Val Staples contacted He-Man expert James Eatock to help assemble the information. Having worked on He-Man both with MVCreations and on the 2002 animated series, James knows the ins and outs of the MOTU universe: "With every volume since the 10 Best (Episodes DVD) my job is to write all the profiles, synopses, trivia, and any pieces of text that appear on the DVDs and packaging, chose images for the packaging interior artwork, select clips and proof the documentaries, plus work on all the miscellaneous extra content that the DVDs may have…The extras with each set are the icing on the already tasty cake!"
The end result to all this effort is a stunningly detailed and intricate selection of bonus features that rivals any DVD television series boxed set on the market, animated or live action. Andy says that their goal all along was to "outdo Disney. Val and I both said in our original meeting that we should be looking at the top-notch Disney releases and seeing what kind of materials we could match. It did not make sense to do low-end extras like many other animated fan favorites were doing; we felt if there were high-quality extras--and abundant extras at that--the fans would really appreciate it…I guarantee that it will be the most comprehensive set of extras ever assembled for any animated TV series. Once you add the documentaries, it just blows anything else out of the water."
But a grand collection of bonus features was not enough to satisfy BCI. The aesthetics of the DVDs and streamlined menus were of key importance. To produce those menus, Jeff and the BCI team turned to Left Coast Digital and Art Director Casey Noland. "My role," says Casey, "was really to try and create a fun, easy to navigate user interface for each volume of He-Man…As well as integrate all of the fantastic assets BCI had been able to gather." Casey worked with artist Emiliano Santalucia, who contributed extensively to MVCreations He-Man comics, to "stay true to not just the look of the original series but to the continuity of its world and its characters. Emiliano would search through countless episodes looking for memorable scenes and we would take the ones that worked best design-wise and add all the other necessary elements to create a (user interface). Furthermore, extra care was given to ensure each page represented a certain location in Eternia and that the transitions between them made sense." Given the grand scope of Masters of the Universe, Casey adds that they "wanted the intro and main menu to be as epic and thematic as possible, really building to crescendo when the MOTU logo appears on screen. In the DVD menu world it is always a balancing act between getting viewers to options quickly and still creating as rich an atmosphere as possible."
While the hard work continues on the boxed sets that have yet to hit store shelves, fan response to the Best Ten Episodes and Volume One, Season One DVDs "has been nothing short of phenomenal," says Jeff Hayne. "Fans (like me) remember this as more than just a cartoon--it was a big part of their childhood." Val Staples has received similarly glowing reviews: "I'm not kidding when I say (fan response has) been at least 99% positive. People just love the total package and all the time and attention that went into making it a great set." James hopes that the "DVDs will help keep He-Man and Masters of the Universe in the public eye, and that's all I really want. I think it's up to fans like myself and those in the He-Man community to do what we've been doing since 1995, keeping the memory alive!"
While the future of He-Man is yet to be determined, BCI has brought the classic cartoon to the next century. These collections are not cheap and hastily arranged sets, but intricate and detailed restorations made by fans for fans. "These DVDs (unlike many other DVD releases these days) have been a labor of love here at BCI," says Jeff. "The fantastic group of people doing the product development, authoring, and graphic design are all fans of the show, and because of this it has been a lot of fun to work on. This project has been treated with the utmost of respect and enthusiasm and we hope that translates to the people who have bought the sets up to this point. I would also like to thank all of the fans at He-Man.org for their support and assistance--we couldn't have done it without them."
Separate Interviews: TOP
---
Andy Mangels TOP
Shaun Farrell: You've helped to develop bonus material for many DVD releases, including Wonder Woman, Beastmaster, and Highlander. How did you get started in doing this type of work? Andy Mangels: A lot of my work has been on the edges of Hollywood, almost from the beginning. In my early days as a writer, I wrote Hollywood news columns for Amazing Heroes, then Wizard, FAN, Hero Illustrated, Marvel Age, and others. They were the precursor to Ain't It Cool News and other similar sites.
Through that, I've acquired a tremendous amount of material on various TV shows and films, and I've kept it all in storage. I've also gained a lot of contacts. When I saw an opportunity to approach Anchor Bay to work on liner notes and other special features, I took it. The only reason I didn't do more was my editor left and I seemed to fall off the map with their successor. I pursued Wonder Woman from the moment I knew it was happening, but it was my buddy, artist Alex Ross, that got me in touch with the producers of the DVD special features, which led to my involvement there.
SF: Of all the DVDs you have worked on, which is your favorite?
AM: Split answer:
Wonder Woman is my favorite for sentimental reasons. I have one of the largest collections of WW TV material in the world, a tiny fraction of which (much more in the future) is visible on my website wonderwomanmuseum.com So to have my name on the DVDs and to be interviewed for one documentary was my chance to be a part of WW history. Hopefully not my last chance.
The He-Man DVDs are an incredible opportunity for me because they've given me a chance to produce, direct, and script documentaries, and work on other Special Features. I'm very proud of the work done on these, and hope that it makes a good calling card for other Hollywood DVD producers who may be looking for good talent!
SF: Andy, how did you become involved in working on the Masters of the Universe DVDs?
AM: I wrote a significant reference book called ANIMATION ON DVD: THE ULTIMATE GUIDE, and reviewed a few BCI Eclipse titles in it. Jeff Hayne from BCI approached me initially about having me help them scout or acquire some titles to release, then brought me onboard to consult when He-Man was in process.
Interestingly enough, the other consultant on the project was Val Staples, head of He-Man.org, and past publisher of MV Creations comics. I had written the Dragon's Lair comic for him the year prior, so it was a bit of "old home week."…Besides the documentaries, I'm in charge of the Art Cards, coordinated the whole San Diego Comic-Con launch, and have consulted with or helped on numerous other facets of the sets, including some things that haven't been revealed yet.
SF: When you compare He-Man to cartoons of its time and cartoons of today, how does it stack up?
AM: Well, certainly animation today has gotten significantly stronger, but things need to be taken in context. First, it was all hand-drawn, instead of CGI. Second, Filmation was the last studio to do its animation in America. Lou Scheimer was a real patriot, and wanted to keep the work here. Other studios were using cheaper overseas workforces. Additionally, syndicated shows like He-Man were on five days a week with new episodes. That's a LOT of material for any studio to produce in a year. He-Man has heart and adventure and some fun characters. Many of the field's most exceptional writers started there as well, including Paul Dini and J. Michael Straczynski! I'd say it stacks up pretty well.
SF: Why do you think He-Man has such a loyal fan base twenty-two years after it originally aired?
AM: The fact that it was on every day with new episodes (almost like a kid's soap opera) was significant to its long-lasting popularity. Most animated series never reached 65 episodes (the equivalent of three seasons), much less 130 episodes. Beyond that, the setting and stories have a whole fantasy/sci-fi/super-hero appeal that crosses over into many areas of fandom. And I think the moral lessons really did inspire lots of kids who've grown up to have fond memories.
SF: What is your favorite memory from working on the He-Man DVDs?
AM: Going to Lou Scheimer's home. He has his Emmy Award on the bar, and a spaceship model from Space Academy on his dining room table. There are bits of Filmation everywhere, and he allowed me to look through it to my heart's content. I was handling the framed gold records he got for Archies songs, plus Emmy Awards and mayoral proclamations and original art! Beyond that, spending time with Lou and his wife Jay, and Erika and her partner was incredible. They are a wonderful family, and it was great to be with them for a short time. And when Lou saw the first set of documentaries and called to thank ME, what a rush!
SF: Let's talk about some of your other projects. You have co-written several Star Trek novels. How did you get involved in Trek?
AM: I was writing for a Marvel magazine, and asked the editor if I could do any comic book fill-ins for him. He agreed to let me pitch a Star Trek story. I brought in a co-writer friend, Michael A. Martin, who is a Trek expert. Paramount liked the story we pitched so much that they told the editor to make us the new regular writers. After the comic line was axed at Marvel, Paramount kept pushing us to other licensors, and we eventually started writing Star Trek novels. We've done a lot of them already, and have more coming in the next several years! SF: Did you get to choose what Trek story you could tell, or does the publisher ask you to work on specific projects?
AM: The editor asks. Marco Palmieri, Margaret Clark, and Keith R.A. DeCandido have all edited books of ours. Sometimes they have a basic idea they want us to develop, other times it's just "come up with a cool story for this particular segment of the franchise!" We've been allowed to do some awesome things in Trek fiction, breaking so many of the TV "rules" and expanding the stories and characters in ways that could never be done on television due to budget and other constraints. We also, BTW, got to write three Roswell novels, including the two that wrapped up the entire series. Unfortunately, the publisher let the finale go out of print, but not the first part cliffhanger! The final book goes for big $$$ on eBay. SF: With your success in licensed fiction, do you want to publish any novels of your own intellectual property? If so, what type of book might we see from you?
AM: Mike has already written some alternate history books and is shopping them. I don't currently have a host of my own stories burning to get out of me at this point. I have one novel that percolates in my head that involves the U.S. Civil War. I'm pretty happy working in the licensed field, though I really wish I could write comic books again.
SF: What are you working on right now?
AM: Solo, I'm working on the scripts for future He-Man documentaries, and in a couple of days, I'm meeting with BCI to plot out the course of several more years of DVD releases now that they've signed for She-Ra and the bulk of the Filmation library, plus some other surprises they haven't announced yet. With Michael, we've got an Enterprise novel about to come out, and we're contracted for another Captain Sulu novel for next year. Additionally, there are a couple of projects that have not been signed yet, so I can't talk about them.
SF: You've worked extensively in comic books. What one thing would you most like people to know about your work in that field?
AM: For fans, I'd like them to know that all of my work has been intensely faithful to the intent of the original characters and stories. I research everything to death before I ever type a word. So, if they search out my past work and like any of those characters, from Freddy Krueger to Star Trek to Elfquest to Justice League characters, they'll find good solid stories that are as enjoyable to read as back issues as they were when they were new. And beyond that, I do have a sly black sense of humor that shows up in my comics a lot. For editors, I'd like them to know that I'm fully available for writing jobs!
SF: Andy, is there anything else you would like our readers at Far Sector SFFH to know?
AM: They can read much more about my works and career at my website (http://www.andymangels.com). Also, if they have any cool Wonder Woman items from the 1970s back, let me know! Finally, thank you Shaun, and thank the fans for their support of me and of the He-Man DVD project. I hope you'll continue to enjoy it as it unfolds!
---
Jeff Hayne TOP
SF: What were Mattel's concerns and hopes for the project?
JH: Mattel has not been involved in any way with the project and has offered us no assistance. We were very keen to have them involved, but have been unsuccessful in gaining their participation.
SF: Why do you think an 80s cartoon has had such lasting power in pop culture?
JH: Good question. I think it has something to do with the 80's being revolutionary in the field of animation and the fact that the people who were young then are now a large and captive audience for DVD releases.
SF: What is your favorite memory in working on the production of these DVDs?
JH: I have become good friends with Lou Scheimer, who is a wonderful man. I feel like a better person just knowing him and without He-Man, we never would have met!
---
James Eatock TOP
SF: With several DVD releases from BCI on store shelves, what sort of feedback have you received from fans?
JE: As a fan myself I know that anyone who enjoys the show will love these DVDs. But personally I've been so busy working on the DVD content of the forthcoming releases that I haven't had a chance to sit back and listen to the fan reaction. From speaking to others associated with these DVDs I understand that it has been overwhelmingly positive. Without trying to sound clever or smug, BCI is onto a winner just from the fact that they are releasing the show (digitally remastered) to DVD!
SF: What is your favorite memory from working on the project?
JE: I have so many great memories of working on the project thus far, but possibly my favorite is being at the San Diego Comic Con alongside those involved with this DVD! It was a magical experience. Every piece of work I have done on this project doesn't feel like work in the slightest. Don't get me wrong there are days when deadlines are looming and there are not enough hours in the day to accomplish them, but the satisfaction from completing work that you love so much is always a joy!
SF: What do you hope will be the result of these DVDs being released?
JE: For one it will get rid of all the bootleggers selling their "digitally remastered DVDs." More importantly I hope that it will bring He-Man to a new audience and make people realize that it wasn't a toy advert. It was a great show featuring some of the best talent in the animation industry. The remastered quality of the DVDs will show just how skilled Filmation artists were, even when working to stock walk cycles! The documentaries will give credit to the show without a doubt!
SF: You have also worked on the DVDs released in the UK. Tell us about your involvement with those and how they differed from the BCI releases.
JE: Working on the UK DVDs was a vastly different experience. At the time I was writing the Masters of the Universe Encyclopedia for Val Staples at MVCreations, so I was already flooded with He-Man-related work! One day Val put me in touch with Lee Binding from a UK-based company called Contender whom had just acquired the rights to release the classic He-Man cartoon to DVD. I met with Lee and over lunch we came up with a wealth of ideas for the DVD releases. I was made co-producer and had to ensure that the content for each DVD was present and accounted for. A lot of the extra content came from my own collection. The most fun we had with the UK DVDs was without a doubt the commentaries for episodes. Myself and a fellow He-Man fan Dave Newman waxed lyrically about two episodes per volume. We were smart enough that we didn't gush that it was the best cartoon ever made, we knew its faults, but at the same time we pointed out why we thought so highly of the show! The commentaries proved so popular that they brought us back to perform commentaries on their DVD release of Dungeons & Dragons!…Val got in touch with me again months after the end of Contender's plans and asked me if I would be willing to work on the US DVD releases from BCI. Of course I agreed…Contender's DVDs are still highly regarded by the fans (usually because of the commentaries), but BCI's DVDs are the definitive Filmation-styled, content-heavy DVDs that everyone wanted from day one!
SF: Why do you think He-Man has such staying power?
JE: The character of He-Man himself in the cartoon (which is where I believe a large part of the fanbase is based) was so beautifully written and came across so very natural in the series. There's one moral segment at the end of the He-Man episode "Double Edged Sword" that I continue to champion to the fans. He-Man appears on screen very straight-faced and delivers beautifully written dialogue that sums up the series:
"Sometimes movies and television adventure series like this one make it seem as though shooting a gun, fighting, and taking chances are fun and exciting things to do. And what's more, the good guys never get hurt. But in real life, people do get hurt, even killed, when they fight or use guns. Make believe can be fun, and there's nothing wrong with imagining great adventures. But never forget, that when it's the real thing, someone can get hurt. Even the good guys. Even you."
There's something so perfect about that dialogue that I think applies to all of the fans of the show; a definite sense of escapism where for twenty minutes you are transported into a wonderful fantasy world where anything seems possible! I think it is this that has kept He-Man in the hearts and minds of millions for so long!
SF: When you compare He-Man to cartoons of today, how does it stack up?
JE: If you had asked me this question in the mid-nineties I would've said "not very well at all." Back then the amazing work on Batman The Animated Series and numerous other shows brought about the realism that the age of Saturday morning toy-based cartoons was over! However I believe there to be a huge problem with the cartoons of today. The ridiculous influx of dubbed animé shows with little in the way of storytelling is making the cartoons of the eighties seem like the best animated shows ever produced! He-Man was of its time, as clichéd as this is going to sound, a more innocent time in the world of animation. One of the things I love about He-Man was that a lot of today's top talent got their start on that show, and even back then they were putting everything into making it the best they could. He-Man was all about the stories and, believe it or not, character development. The writers had no choice but to develop the existing cast of characters when they often refused to plug Mattel's new toys in the show! In today's market if you put He-Man next to a badly dubbed animé show there would be no contest; the badly dubbed animé show would win, because kids believe this kind of show to be the norm. I love animé, but these shows have some of the poorest examples of pacing in animation, and it disappoints me greatly.
SF: When the 2002 MOTU cartoon debuted, you were hired to write a series Bible for the show, which qualifies you as one of the world's leading experts in He-Man! Tell us about that experience.
JE: A guy called Zadoc Angell and I had been running a hugely successful website since 1997 which solely paid tribute to the He-Man and She-Ra series by reviewing episodes, interviewing those that worked on the show and featured a wealth of behind the scenes material. We were on the map! Late in 2001 I remember getting an email directly from an employee at Mattel saying that he had seen the website and asking me if I would like to write a guide, based on the Filmation cartoon, that the writers of the new show could use to develop their vision of Eternia. I hastily agreed and along with my website partner in crime, Zadoc Angell, we undertook the task of listing everything seen and mentioned in the show, as well as writing long paragraphs of text about them! This went on for many months as the show went into production. We would often get emails like "Write about Count Marzo!" And so Zadoc and I would pull together and see what we could come up with. While it was a lot of fun to do, and see elements of what we'd written used in the new series, working with Mattel was a bit of a chore. I think because they were such a big company not everything got taken care of. It took us over a year after the job was completed to get paid, and even though we were told we would get a screen credit we never did. But I am eternally thankful to Mattel for employing me to work on the show; it is one of my proudest moments!
SF: Why do you think the 2002 cartoon was cancelled?
JE: To this day I'm not quite sure. Some people will tell you "It sucked!" Others will say "Because of Mattel's politics!" I'm not sure what to believe. It was a very good show, and like all new He-Man cartoons I took it as an "alternative take on the legend of He-Man." The show's first season was a success; it helped launch the series once again, the toys flew off the shelves and the new comic was very successful. But something happened when the second season came out, and everything that had been established was slightly skewed. Every episode had to involve the Snake Men because Mattel were pushing these new toys so heavily. I think they went slightly overboard by renaming the show "Masters of the Universe versus The Snake Men." That kind of title kept the show's vision very narrow. I often tell people the new show had fantastic animation, great new stories, but lacked the heart that the Filmation show had.
SF: James, is there anything else you think our readers at Far Sector SFFH should know?
JE: I have just started a daily He-Man and She-Ra blog that I think people would be interested in: http://bustatoons.blogspot.com/
---
Val Staples TOP
SF: Why does He-Man have such a loyal fan base twenty-two years after it originally aired?
VS: MOTU was a huge brand in its day. It was right up there with Transformers and GI Joe in terms of "boys marketing." When you have so many people that grew up with MOTU, it stands to reason that a sizable percentage would look back on it fondly. But I think part of what makes MOTU fans stand apart is that a lot of MOTU fans are friendly, open-minded fans who welcome all fans from all walks of life. I see a lot of flame wars and arguments and sometimes just nasty stuff on other forums for other 80s cartoons. You don't get much of that with MOTU fans. We really are a big family. On the flipside, MOTU fans are probably some of the pickiest fans out there. So there's a balance.
SF: As owner of www.he-man.org, how important do you think the internet has been in MOTUs ability to thrive?
VS: It's been extremely important. It's allowed people to find others who share their fandom, and given them a chance to interact as a group. A lot of great things have come from fan efforts on the internet.
SF: As President of MVCreations, I must ask you about the comic books you produced for MOTU. I have the hardcover editions and the artwork is simply stunning. Based on my research, it appears that there will be no more He-Man comics. Is that true? If so, why?
VS: That's true. The MOTU comic is done for now. Emiliano and I still hope to do on-line versions of unproduced stories one day. But when we aren't working and tryin' to pay the bills, we're usually trying to catch some shut eye. So right now, we don't have much time at all to work on those stories. There's a myriad of reasons why the comics are no longer being produced. Some of it is bad sales later on in the run, some is limited rights to use certain characters and story ideas, the list goes on and on. But we still got a good run on the comic. We never got to tell the story we really wanted to produce, but when you think about the opportunity we had to participate in the relaunch, we can't really complain. We're very happy to have been able to work on the comic series, and are very grateful to Mattel for their support. SF: What was your vision for the comics?
VS: Ideally, a continuation of the classic cannon.
SF: What type of feedback did you receive from fans?
VS: Mixed. Some fans liked it, some hated it. And that's understandable.
SF: Val, anything else you think our readers at Far Sector SFFH should know?
VS: I'm just thankful for all the opportunities and all the support over the years. Without Mattel giving us a chance, without people like the Four Horsemen, Dean Stefan (editor of the cartoon) and others backing us up, and without all the fans helping us in times of need and supporting our efforts, none of this could have ever happened. A lot of the opportunities I have today stemmed from being able to publish comics at MVCreations, which all originated with the MOTU license. It's been fantastic.
---
Casey Noland TOP
SF: How did you get involved in this project?
CN: Left Coast and BCI have had a great working relationship over the years. As their library continues to grow, us here at LCD have really enjoyed the new challenges. When we heard Barrett and BCI were acquiring He-Man, we immediately started throwing ideas around at how to best bring the Masters of the Universe to DVD.
SF: Were you a fan of the show when it originally aired?
CN: I was, although to be honest I had all but forgotten about it until we heard of BCI's plans. Now, twenty odd years later, we have seen all of the episodes come through our offices and spent hours comparing which toys we had as kids and who our favorites are. I was always fond of Orko myself. And was probably not just a little upset my first car wasn't Attak Trak.
SF: Why do you think He-Man has such a staying power for an 80s cartoon?
CN: I think the era just produced some quality shows. Overall the creators really cared about making a quality show, and the writing seemed above par, I don't think it's any surprise He-Man writers have gone on to write for some other great series.
SF: What is your favorite memory from working on this project?
CN: Let's see. It's got to be reading fan forums in the buildup before the "Best Of" release. There was so much excitement out in the community and it definitely made its way into our office. Then, once release day finally arrived it was almost surreal to watch a product you have worked months on eagerly be snatched off store shelves. Just amazing.
SF: Casey, is there anything else you would like our readers at Far Sector SFFH to know about your work at Left Coast Digital?
CN: Just know that this whole adventure has been challenging and a lot of fun. We want each of the releases to be better than the last, and we really do care what the fans out there think. We're well into development for season two now, so post your ideas up on the boards and keep supporting He-Man!
Websites to visit:
http://www.he-man.org
http://www.andymangels.com
http://www.navarre.com/bci.aspx
Text/Interview Copyright © 2005-2006 by Shaun Farrell. All Rights Reserved.