October 2005
Trick or Treat for TV Box Sets:

Media Commentary By John Kenneth Muir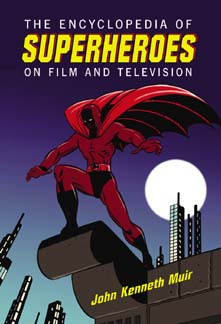 Halloween is almost here, and that means it's time for some seasonal goodies. Usually in this space, I focus on upcoming or favorite horror movies, but this year I'm changing tracks and focusing exclusively on TV; in particular, classic TV. There are some exciting releases pending on DVD in the month of October, just in time for All Hallow's Eve, and horror enthusiasts would do well to purchase 'em. Some of us have waited a very long time to see these particular productions again.
On October 18, the creative well-spring of modern horror TV, the original Kolchak: The Night Stalker finally gets an (apparently bare bones...) DVD release from Universal Studios. By then, we'll all know how the Stuart Townsend Night Stalker remake stacks up, but ultimately that's immaterial. For thirty years—since the original program first aired on September 13, 1974—aficionados have had to grudgingly make do with grainy VHS episodes taped off late night CBS airings, or worse, edited shows butchered by the Sci-Fi Channel. No more. All twenty episodes are complete, although be warned: you'll have to buy the two Kolchak TV Movies (Night Stalker and Night Strangler) separately. They've been available for some time on their own in a double feature, and aren't included in this collection.
The series, which The New York Times' critic John J. O'Connor called a "mixture of nutty farce and ominous terror," includes several highlights, but two of the best episodes in the set include "Zombie" and "Horror in the Heights," the latter about a creature called a Rakshasa. In the former, Kolchak (Darren McGavin) investigates the murder of several mobsters and learns that a zombie master is behind them. This episode guest stars Scatman Crothers and the late John Fiedler, and features a tense moment as Kolchak plots to stop the zombie massacre with sewing needle, thread, white candles and salt. Watch to see how his plan goes awry.
"Horror in the Heights," which first aired December 20th, 1974 was written by horror maestro Jimmy Sangster and features Phil Silvers in the cast. In Roosevelt Heights, the senior citizen population is being murdered by what is apparently a Far Eastern monster, an extra-dimensional beastie called a Rakshasa. This creature hunts prey by appearing in the form someone that the victim trusts, and again, there's an shocking twist in the climax, as Kolchak confronts the monster.
I appreciate McGavin's idiosyncratic portrayal of the Kolchak character because, as I've written before, it captures the national vibe of the Watergate-era 1970s, when investigative reporters fighting City Hall were the last line of defense against corrupt politicians. As played by McGavin, Kolchak also happens to be a great TV hero (or is it anti-hero?) As TV historian Jeff Rovin notes in his book, The Great Television Series: "These creatures...were never half as ruthless as Kolchak himself. For one thing, the journalist disregarded the law entirely..."
Indeed. Kolchak was TV's original dogged reporter, and in the age of "corporate" news it's endlessly refreshing to see someone really going after a story, even if that story concerns vampires, werewolves, aliens or succubi rather than misbehaving politicos.
Another box set of interest also debuts on DVD on October 18th: Dark Shadows: The Revival Series, from 1991. This is the splendidly-produced Dan Curtis series starring Ben (Chariots of Fire) Cross as the vampire millionaire Barnabas Collins. This oft-forgotten remake ran for originally in two installments of two-hour movies, and then as eight additional "series" episodes on NBC, so there are twelve hours of programming here in all. An odd historical footnote is that the series failed in the ratings, because it was repeatedly pre-empted by news footage of the first President Bush's Iraqi War, which was waged on network TV just as the series commenced. A serious remake of the 1960s-1970s daily soap opera, the new Dark Shadows, according to The New York Times, is "slicker, sexier, and, of course, more violent [than its predecessor], with lots of gory special effects."
I remember watching this show while I was a junior in college, and being absolutely riveted. Cross makes for a powerful, menacing and alluring central presence—a true Byronic hero—and the production values far eclipse those seen on the original soap. Many of the directors toiling on this series, including Rob Bowman, moved on to direct X-Files episodes and so this Gothic soap is a real visual treat. It's all mist and mood and bared fangs.
Finally, if you're currently enjoying Invasion on ABC, you'll also want to check out creator Shaun Cassidy's earlier genre TV series. No, not The Hardy Boy Mysteries, but 1995's American Gothic. This effort, yet another horror soap opera, ran from September 22, 1995 to July 11, 1996, and included twenty-two hour-long episodes set in the creepy South Carolina town called Trinity. There, Sheriff Lucas Buck (played with slick, seductive charm by the underrated Gary Cole) is up to devilish misdeeds, and a doctor (Matt Weber) and reporter (Paige Turco) set out to stop him; particular his unholy mentoring of a very special young boy with undetermined lineage. The performances in American Gothic are carefully observed, and you won't be disappointed by the character fireworks, in particular whenever the luscious Brenda Bakke takes center stage.
Writing for Rolling Stone, reviewer David Wild observed at the time that on American Gothic, "the players throw themselves into these self-consciously bizarre proceedings as if the show were the inspired work of collaboration between Tennessee Williams and Stephen King...as if creator Shaun Cassidy...were trying to mutate Twin Peaks and The Andy Griffith Show..."
Unlike Kolchak: The Night Stalker, which features "stand alone" episodes you can watch in any order, American Gothic has more in common with Dark Shadows; it's a soap opera in structure and pacing, which means it adheres to a tightly-constructed story arc, and therefore every episode is of interest in incrementally building the overall plot. This box set includes several episodes that CBS decided—in its lack of wisdom—not to air for some reason, thus effectively making mincemeat of the continuity. These episodes (which eventually did see broadcast on The Sci Fi Channel...) include "Potato Boy," "Ring of Fire," "Echo of Your Last Goodbye," and "Strangler," and it should be rewarding to watch them—at last—in proper sequence. American Gothic also features some impressive guest stars, including horror icon Bruce Campbell in episode number seven, "Meet the Beetles."
Kolchak: The Night Stalker ran thirty years ago; the new Dark Shadows fifteen years ago, and American Gothic a decade ago. Yet it's illuminating to view these series fresh today, and see how—for the most part—they eclipse the genre offerings on the tube now, including the rather disappointing Supernatural on the WB. All three box sets are inexpensively priced in the thirty-to-forty dollar range, so instead of viewing horror movies this year while you down tons of Halloween candy, instead catch-up with some of the best horror programming the small screen has ever offered.