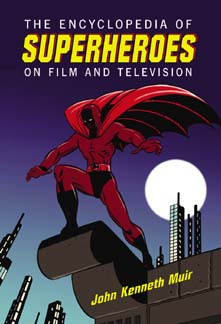 On Friday, April 29, 2005, my wife Kathryn and I traveled to Manhattan, and the Donnell Library Center at 20 West 53rd Street to attend The New York Public Library's 2005 celebration of 'The Best of Reference' books.
This is an annual event sponsored by the library, one spotlighting a handful of extraordinary books (and websites) selected by a committee of dedicated librarians. The criteria for inclusion on the prestigious list are: value and appropriateness for collections, the organization of material, the style of presentation, and the authority of the author.
This year, I was delighted and honored to discover that my 2004 McFarland book, The Encyclopedia of Superheroes on Film and Television, had been recognized for this award. The book—a tome over six hundred pages—has been a labor of love for me. And for Kathryn too—who watched endless hours of TV programs such as Black Scorpion, Batman, Manimal, and Automan with me during my 'research' phase back in 2001 when I first undertook the project.
After coffee and refreshments in the library at 9:00, Kathryn, my agent June, and I then joined a group of distinguished authors, editors, librarians, and publishers in the downstairs auditorium for a three hour program featuring humorous and informative skits (replete with Power Point Presentations...) on all the selected books and sites for 2005. When my book came up first after a brief intermission, I was amused and delighted to see that the skit involved two librarians portraying my favorite superhero/side-kick team: Buffy the Vampire Slayer and Willow. In character (replete with Buffy Slang...), the librarians cogently discussed all aspects of my book. It was a good laugh, spot-on accurate, and very charmingly done.
Specifically, the New York Public Library termed The Encyclopedia of Superheroes on Film and Television "an amazing collection of superhero biographies ranging from Buffy to X-Men!" They went on to note that "the book offers an overview of superheroes within the context of U.S. history and detailed accounts of the characters and their various incarnations on film and TV."
More information on the New York Public Library's 2005 "Best of Reference" choices (including The Encyclopedia of Superheroes) can be found at the following site:
http://www.nypl.org/branch/books/index2.cfm?ListID=234.
It was a great day, a career high, and an occasion I will always remember. Kathryn and I had a blast watching the program, celebrating these fine books, and meeting the other recognized authors and publishers. My special thanks to the folks at the New York Public Library for hosting the event.
Text/Media Copyright © 2002-2006 by John K. Muir. All Rights Reserved.