FALL 2006
Writers and Illustrators of the Future
A Singularities Article by Shaun Farrell
---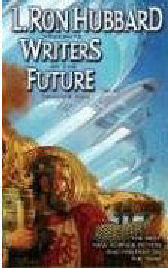 This Singularties column will be somewhat unique. It is part review, part personal experience, so I hope everyone enjoys the change in format.
This August I had the privilege of attending the 22nd annual L. Ron Hubbard Presents Writers and Illustrators of the Future Contest awards ceremony here in San Diego. What is the Writers and Illustrators of the Future? I'm glad you asked. Simply put, it is the biggest and best short story and art competition in the world for speculative fiction. The contest is open to those without professional sales, and it has proven to be one of the best, if not THE best way to launch a writing or artistic career.
Notice: Due to his heavy workload and many commitments, Shaun Farrell's review columns appears less regularly as of late 2006. If you are a talented and knowledgeable writer, and wish to submit a review for consideration in this slot, you are welcome to do so. Please submit as e-mail, with the exact string '[submitreview]'in the subject line. No Word (doc) files. RTF attachments welcome, or text may be inline (within the e-mail). Payment consists of a one-paragraph mention (which you may compose but we feel free to edit) plus a link to your website. Questions? Answers.
The contest is open year round and is divided into four quarters. Every quarter three winners are selected within the writing and illustration categories. Those winners are given a cash prize, flown to an intensive week long workshop taught by the fields' leading experts, and finally published in the annual anthology. Judges for this competition include Anne McCaffrey, Orson Scott Card, Robert Silverberg, Frederik Pohl, Larry Niven, Kevin J. Anderson, Tim Powers, Bob Eggleton, Stephen Hickman, Frank Frazetta, and many others. Quite simply, winning this event is a major achievement for undiscovered talent.
Having never attended this event before, I didn't know what to expect. Besides seeing pictures from past events, nothing could have prepared me for the scale and splendor of what I saw. It was like entering another world! The stage gleamed with golden pillars. Tables of food, including a chocolate fountain, stretched across the back of the expansive arena. As the ceremony began, the many celebrated judges appeared on stage, reading the names and biographies of the contest winners. Triumphant music filled the auditorium. The winners then accepted their awards, took pictures with their judge presenter, and finally gave a small speech.
At the end of the evening, everyone in the audience received a complimentary copy of the anthology and a DVD documentary of the contest. I've already watched the DVD twice. It is very well done. The book itself is extraordinary. The cover art by Stephen Hickman denotes a triumphant march toward the future, masterfully capturing the excitement and determination living within each contest winner. The stories are of professional quality, indeed, and I expect that many of these writers will have long and successful careers. A illustration accompanies each story, bringing the fiction alive on a deeper level.
For twenty-two years the Writers of the Future contest has given people a chance. They've launched careers. They've made dreams reality. I highly recommend the anthology. You can probably find it at your local bookstore, and here's the ISBN: 1592123457. Also visit Writers of the Future (http://www.writersofthefuture.com/) to learn more about the contest.
Lastly, I'd like to thank John Goodwin for inviting me to attend the event and for leading his team in this year-long endeavor. They are doing something unique and special, and I hope all of you buy the anthology to support this continued effort of finding tomorrow's great writers and illustrators. Not only did I have a great time at the ceremony, but I received inspiration beyond measure. And so can all of you.
Copyright © 2006 by Shaun Farrell. All Rights Reserved.
---